 Noah Hester is the corporate chef for RNC entertainment, he is also a chef and part-owner of CT Provisions Cocktail Parlor & Kitchen. Noah tours with Koe Wetzel and does VIP meet and greets in select cities, which include a four-course meal with drink pairings. Chef Noah creates custom hot sauces for groups like Bone Thugs-N-Harmony and has developed his own collection of sauces, which are available for purchase. On top of it all, he is the brand manager for Bradshaw Bourbon and works closely on Bradshaw Ranch Thick N Juicy burgers doing cooking demonstrations.
Noah was born in Austin, Texas moving to Hawaii as a youngster. Growing up on the Kohala Coast, he discovered his love for Pacific Rim flavors at a young age. He was influenced by Alan Wong, one of Hawaii's first chefs to specialize in Hawaii Regional Cuisine. Noah spent his early years working in Big Island restaurants before moving to Nashville, Tennessee to reconnect with his southern roots. He returned home to blend his love of southern hospitality with the aloha spirit. Noah is the founder and culinary talent behind Puako Provisions & Catering. He was recently named one of the country's top culinary talents for the second time by "Best Chefs America." This prestigious honor recognizes the most brilliant cooks in the country.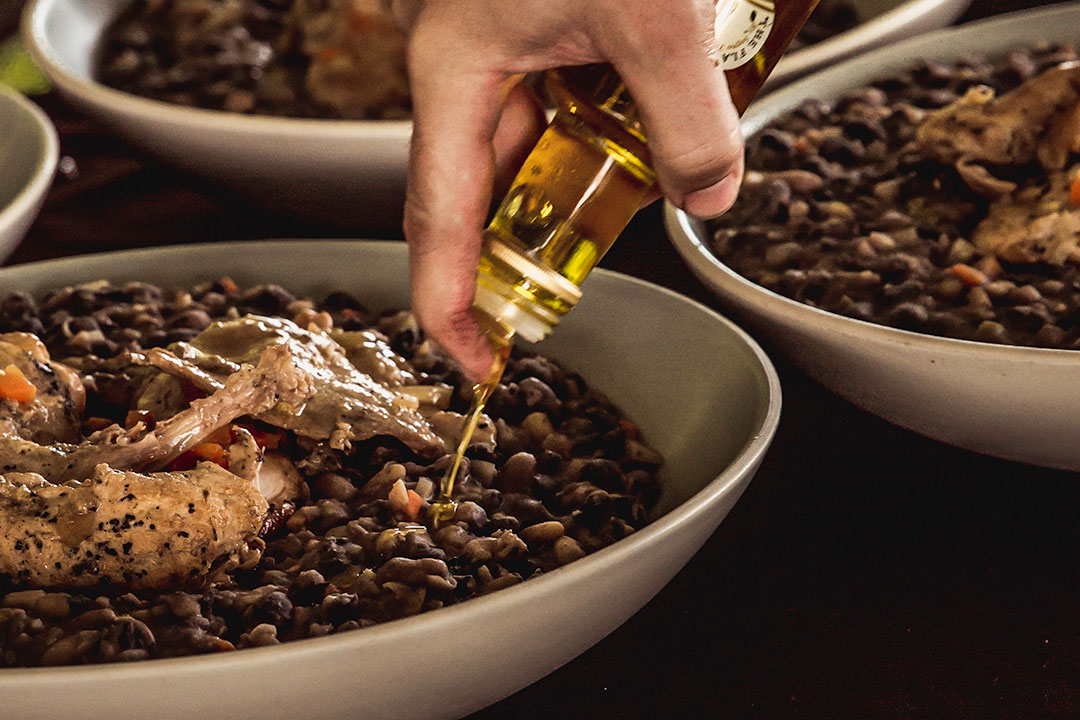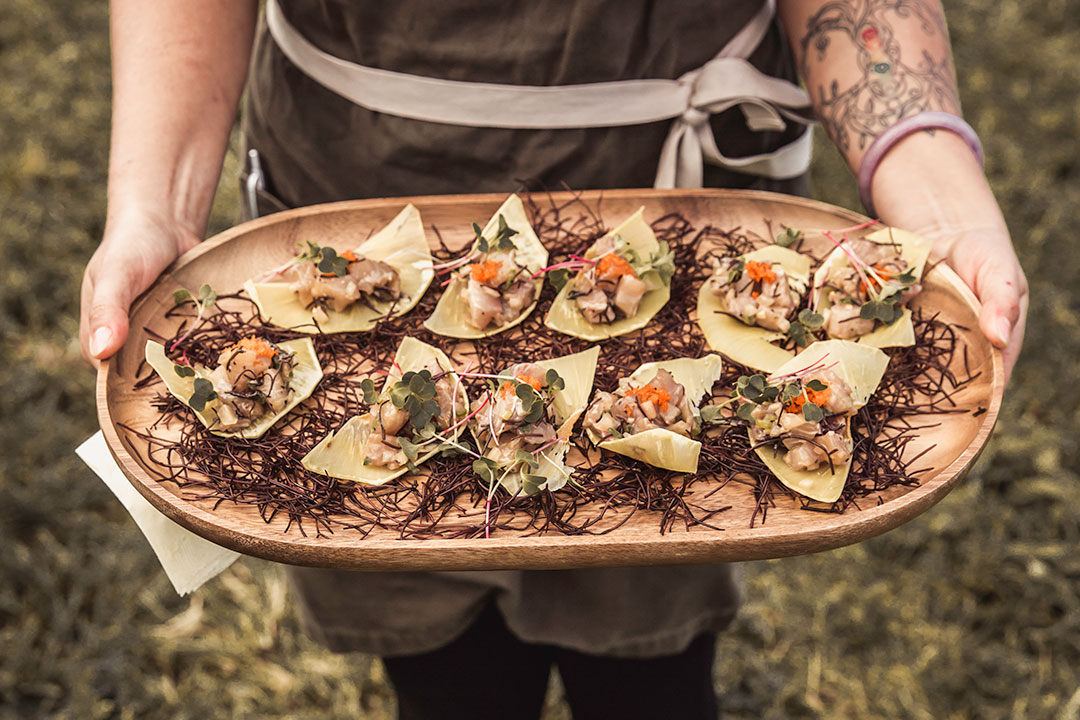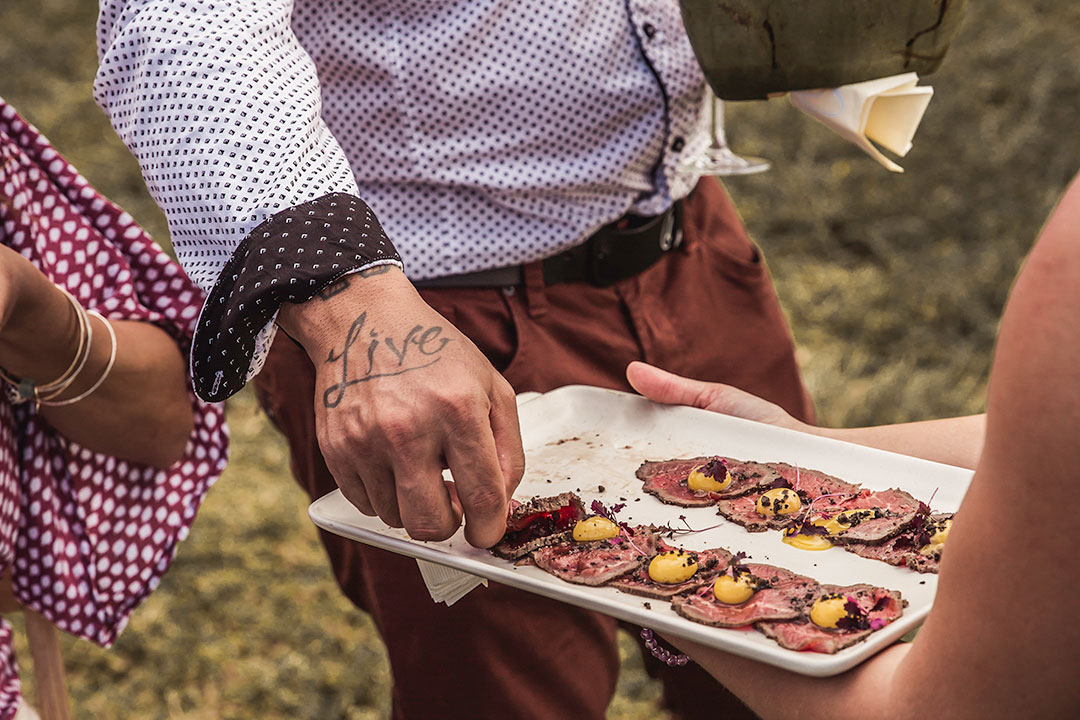 We're Here to Help!
We Offer
Let Chef Noah Hester take the worry out of your life. We are now offering the following options to help feed your family and friends in the comfort and safety of your home.
Catering special occasions of all sizes
Daily in-home private chef services
Sophistication meets laid-back beach vibe
The Taste of Hawaii Island
Ahi and avocado sashimi, smoked soy sauce, grated ginger
Tofu watercress Panzanella salad with kim chee vinaigrette
Lemongrass infused fresh catch, Coconut whipped purple sweet potato, baby bok choy, mango coulis
Short bread cookies with orange infused whipped cream and seasonal fruit
Big island raised wagyu carpaccio; quail egg yolk, smoked sea salt
Ahi poke cucumber cups with wasabi aioli
Miso glazed kona kanpachi, namasu, and Chef Noah's chili water
Beet and kale salad with li hing mui dressing
Pan seared fresh catch, Shiitake-ginger pesto, wilted watercress, Steamed rice, Unkle Noah's smoked soy sauce
Purple sweet potato cheesecake
The Height of Big Island's Bounty
"Noah's creations worked out beautifully with our request of a tasting/hors d'oeuvre menu. We were very satisfied with the value received: Noah did all the work himself and left our kitchen even better than when he arrived. We highly recommend working with Noah Hester and Puako Provisions & Catering."

Howard M.
"Chef Noah mixes fabulous flavors together that are just scrumptious and work. I hired him for several days of catered lunches... everyone raved. Love the fact he uses local meat and vegetables. Hurray for Chef Noah. A real gem for Big Island!"

Laurie D.
"Best poke we had on any island and we've had quite a bit of poke. Seriously, the depth of flavors was unsurpassed by anything we had anywhere during our vacation."

Bryan D.